<![if !vml]><![endif]>

Brandon Valley School District Transportation Department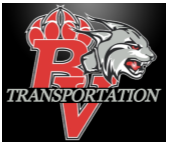 Transportation Considerations for the 2020-2021 School Year
In light of the challenges stemming from the COVID-19 pandemic, it is important for families to understand how those factors will be affecting school transportation. Although every effort will be made to maintain social distancing on district vehicles, it is not feasible to enforce strict distancing on vehicles. Further information on the impact of COVID-19 on the 2020-21 year can be found on the BVSD COVID-19 site. As mentioned in the message from Superintendent Dr. Larson, families are strongly encouraged to utilize other means of transporting students to and from school.

Bus Passes and Notification of Ridership

Transportation arrangements MUST be made for all students using district transportation for the 2020-21 year. The deadline for purchasing a pass or notifying the Transportation Department of ridership is 7/31/2020; students whose passes are purchased after 7/31 (or notification made of ridership, if they reside 5 or miles from their school), will be eligible for transportation no earlier than 9/1/2020.

**KG-4th Grade students open enrolled within the district are not eligible for transportation**

Out-of-district Open Enrolled students:
Passes may be purchased for students open enrolled from outside of the Brandon Valley School District for $150 per student, per semester. In accordance with district policy, these students must be picked up and/or dropped off within BVSD district boundaries.

KG-12 students who reside less than 5 miles from their school of attendance:
Passes can be purchased for $75 per student, per semester, with a family maximum of $175 per semester.

Students who reside 5 or more miles from their school of attendance:
In accordance with state law, there is no fee for a bus pass, however transportation must still be confirmed with the Transportation Department by calling 605-582-3514 or emailing bvsd.transportation@k12.sd.us.

Purchase Options: Passes can be purchased online with a debit/credit card at bv.revtrak.net, or with check or cash at the Transportation Department office at 812 E Redwood Blvd. In addition, the Transportation Department will be hosting three open house nights to allow families to purchase passes, notify of ridership, and ask questions. All three will be from 4p-8p at 812 E Redwood Blvd

Thursday, 7/23 - Tuesday, 7/28 - Friday, 7/31

Once the 7/31 deadline has passed, centralized stops will be assigned based on the location of students who will be riding. Use of centralized stops, as communicated by Dr. Larson in May, will further enhance the safety of student transportation as well as reducing overall route time in a concerted effort to provide the best service to BVSD families. Communication will be sent to families with route information no later than 8/13/2020.
Important Links:
BVSD Webmall - Purchase Passes Online

BVSD COVID Website

BVSD Student Handbook - Transportation Section