Please monitor the Brandon Valley School District Covid-19 Information website for news and updates. This central communication hub is critically essential to clear and concise communication efforts. Information will be updated periodically.
&nbspWelcome to Brandon Valley Schools Child Nutrition Services
The School Nutrition Department is made up of a team of food and nutrition professionals that are dedicated to students' health, ability to thrive in the classroom, and overall well-being. We support learning by promoting healthy eating habits for lifelong nutrition. The meals served and sold in our schools meet the state and federal requirements, which are developed from the USDA Dietary Guidelines. We provide students with access to a variety of affordable, appealing foods that meet the health and nutrition needs of our students.

Communication about lunch account balances begins when the account reaches $15.00 via email and verbal notifications. If an account reaches $0 the student is not allowed to purchase items on the a la carte line, but will still be given the opportunity to eat the regular lunch. Parents may place restrictions on second offerings and a la carte purchases in their family access foodservice tab.

Breakfast is served daily at 7:30 a.m. in all schools. We encourage you to visit with your students on the amount you will allow them to spend on daily basis to help manage their breakfast and lunch accounts.

Payments may be made at any time in any of the schools. The money is applied to a family account. There are several options available in making payments such as through the school district Skyward family access web page, cash, or check. Please be sure with any payment you include your student's name or six-digit Student ID number to assure money is being applied to the correct account.
---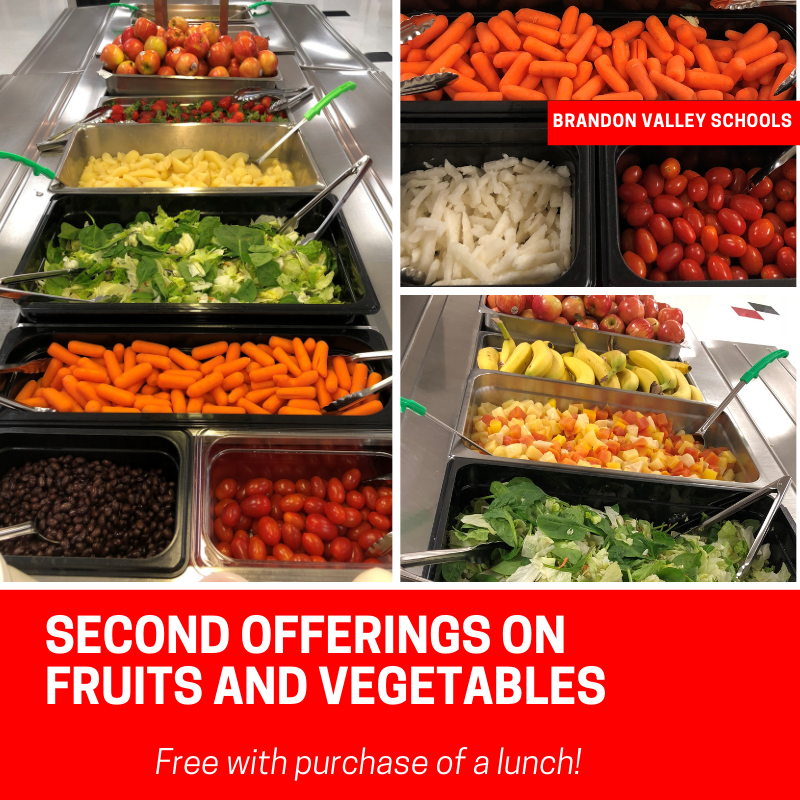 &nbspOur Mission
We will prepare our students to be life long learners and productive citizens through a positive learning environment with the cooperation of students, educational staff, parents, guardians, and community.
Brandon Valley welcomes new families and students to its educational programs and wants to make each and every student feel at home when attending our schools.